Sonoma Valley is a destination spot for wine lovers and vacationers alike. Nestled in northern California amongst the rolling hills and vineyards is historic and picture-perfect Healdsburg. Healdsburg hotels and B&Bs are hip and gracious and provide a convenient starting point for wine country. One of the most charming B&Bs serving Healdsburg visitors since 1969 is the Camellia Inn.
Amenities at Camellia Inn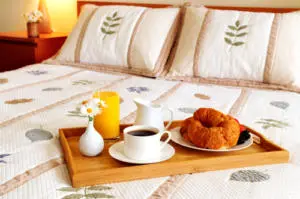 The Camellia Inn has 9 rooms blending a vintage charm with luxurious accommodations- think first class mattresses meets antique furnishings. There are also five apartments and cottages located off-site that can accommodate families and larger groups. The different rooms offer a variety of options such as whirlpool tubs, fireplaces, private sitting rooms and different bed sizes. There are also in-room ipads, eco-friendly 600 thread count linens and chocolate provided.
You're encouraged to venture out of your room and enjoy the charm of the outdoors. The grounds around the inn are covered in more than 50 varieties of its horticultural namesake. The Camellia Inn also offers wine and cheese tastings in the evenings either inside the parlor or out by the villa-style swimming pool, weather permitting. There is also breakfast served every morning, which is a seasonal selection of egg dishes and fruits from the local farmer's market as well as standard items like coffee and juice, granola, bread and yogurt. Don't be shy to ask for the recipe to any of the dishes you love!
The Camellia Inn also has a spa on-site, and you are able to add in room-massages to your stay. They also offer a variety of packages tailored to different experiences like babymoons, break ups and chocolate lovers!
The Inn takes the environment very seriously. You will find solar powered heaters for the water and pool. The linens are recyclable and liquid soap is used in the bathroom. The inn also recycles and composts. Healdsburg is lucky to have a rich natural environment and the inn is committed to preserving that.
Nearby attractions
While you could easily spend your entire stay relaxing at the B&B, the Camellia Inn is conveniently adjacent to some of the wonderful activities that Healdsburg offers. Unlike other Healdsburg hotels, because it has been operating for more than 30 years, the inn has many local ties and can arrange many private tastings or special outings with nearby wineries. The inn is conveniently located to historic Healdsburg Plaza where you will find local taverns, the Bear Republic Brew-pub, Zagat-rated restaurants and many shops including antiques, art galleries and wine hospitality rooms. If you're a history buff, you can also check out the Healdsburg Museum which is officially listed on the National Register of Historic Places. While the museum is primarily dedicated to the history of the town and environment, it houses offbeat exhibits such as 2013 "Twisted History" exhibit which looked at weird customs, people and events in the town's past.
Camellia Inn is surrounded by Dry Creek Valley, Alexander Valley and Russian River Valley. All three are renowned wine growing areas which means plenty of access to top wineries and tours. There are also opportunities for cycling (sip and cycle wine tours are a must), hiking and just enjoying the outdoors whether it be at wineries or at some of the local parks. You will also find The Ferrari-Carano Winery and Gardens offering 5 acres of dazzling gardens with over 10,000 tulips! Neighboring Napa Valley, the Pacific Ocean, Armstrong Redwoods and more are also easy day trips from the inn.
Healdsburg, noted by CNN Travel as one of the nation's six "most romantic small towns", is an ideal getaway for couples, friends and families. Take advantage of the town and its surrounding areas with a first class stay at the Camellia Inn, one of the area's most prestigious bed and breakfasts.