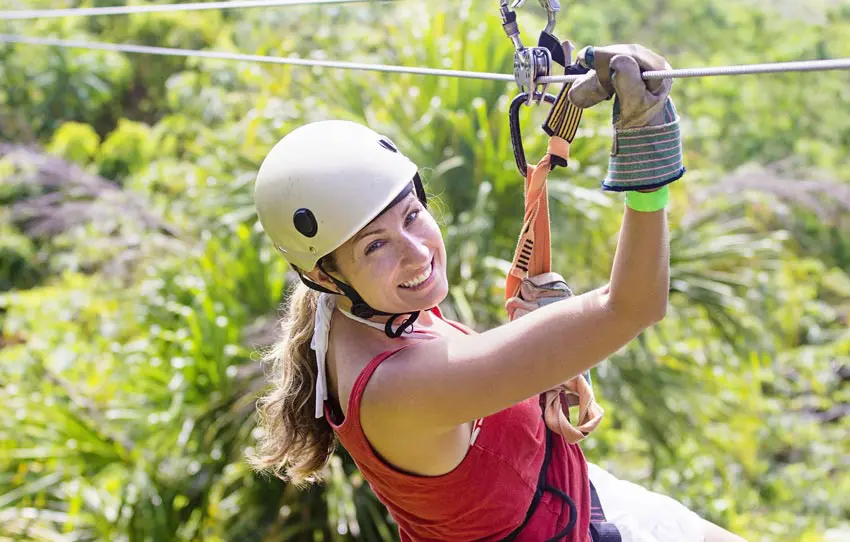 Don't just get out into nature, get UP into it at Sonoma Canopy Tours! High-flying, zipline adventures in California's coastal Redwoods.
There's nothing quite like ziplining. Flying high above the ground with amazing views, securely harnessed, yet feeling free and alive with excitement and wonder. If you've had the experience, you'll know what I mean. If not, you're really missing out.
Even if you have ridden a zipline before, was it at Sonoma Canopy Tours? If your answer is no, you're still missing out. There are zipline courses and then there are ZIPLINE COURSES.
Sonoma Canopy Tours' (aka Sonoma Zipline Adventures) longest zipline is 1500 feet (457 m) long and can get you flying along at up to 40 mph (64.4 kmh)! Even better, their zipline adventures double as eco tours. Educational experiences that will bring you closer to the beauty and complexity of the unique Coastal Redwood eco-system.
A Variety of Zipline Experiences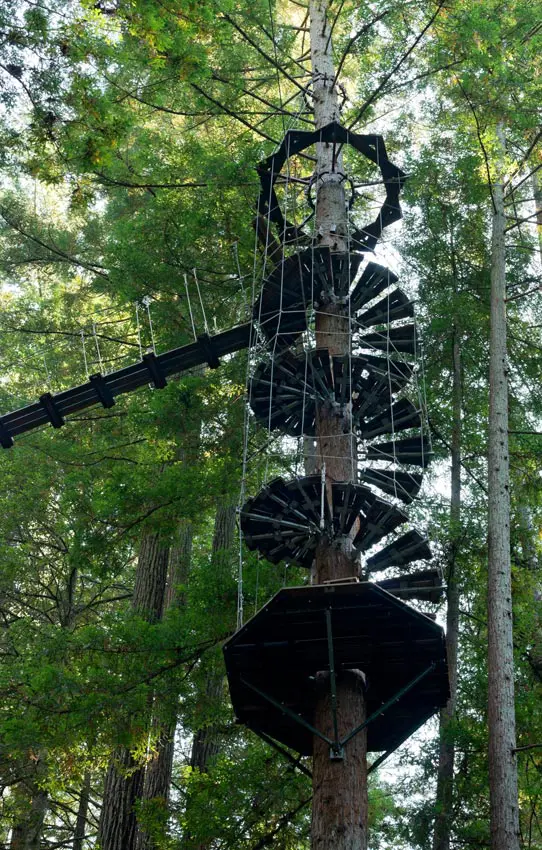 Sonoma Zipline Adventures has two unique zipline courses. Both include multiple zip lines, sky bridges, a majestic spiral staircase, and a rappel to the forest floor. Both tours will have you up and flying through the trees for two-and-a-half hours.
The Tree Tops Tour is their fastest, highest, and longest course. Reach speeds of up to 40 mph (64.4 kmh) on a 1500 foot (457 m) long zipline some 250 feet (76.2 m) above the forest floor! Did we mention that the course is 2,907 feet (639 m) long? That's almost two-thirds of a mile – Wow!
The Forest Flight Tour is a little more sedate – but only a little. It provides speeds of up to 30 mph (48.2 kmh) at 200 feet (61 m). This course is nearly half a mile long at 2,157 feet (657 m) in length.
Both courses include 7 ziplines providing a variety of speeds, 2 skybridges, and a final rappel back down to the forest floor.
For some real adventure, sign up for the Night Flight Tour: the Forest Flight Tour during sunset or even at night! Imagine zipping along through the treetops under the moon and stars. Breathtaking!
Sonoma Canopy Tours
Sonoma Canopy Tours is located at 6250 Bohemian Highway, Occidental, Ca 95465 – an easy 40 minutes or less from Camellia Inn.
It would be easy to make a delightful day-trip out of this adventure. Nearby Occidental, CA is a tiny and friendly bohemian community just a few miles from the Pacific Ocean and the Russian River.
The charming, two-block-long town has lots of nice restaurants and shops and is fun to visit. The surrounding area offers no end of outdoor recreation, including hiking, fishing, and of course, cycling on Coleman Valley Road. Spend the day enjoying the Occidental area, then head back to the comforts of your Camellia Inn guestroom.
Sonoma Zipline Adventures has offered guided, zipline, eco tours through the redwood treetops since 2010. Learn more on the Sonoma Zipline Adventures website. You can also visit them on Facebook.