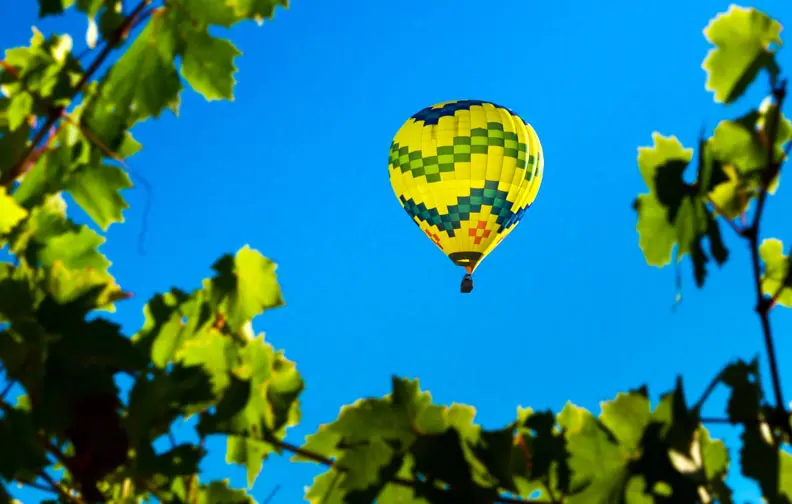 There are many ways to explore wine country – walking tours, driving tours, van tours, biking tours, and more. For a truly unique, bucket-list worthy experience, however, it's hard to beat a Sonoma hot air balloon wine tour!
If you think Sonoma County wine country is gorgeous from the ground, wait until you see it from the air. There's nothing like floating high and gentle as a bird above above the unfolding landscape in a big, beautiful, hot air balloon.
Unlike a plane, balloon flight is nearly silent. It's just you, your companions, and pilot securely suspended in a large, sturdy, open air basket. Below and all around you the world stretches in all directions, as far as the eye can see. Your pilot operates the balloon, your job is to simply take it all in.
The Ballooning Experience
Your ballooning experience may vary, depending upon the operator and type of tour you choose. Some tours may only include the balloon flight, while others are more extensive. You may need to drive to the launch area or you may be taken there by shuttle.
Outside of the tour details, however, most balloon launches, flights, and landings will be similar.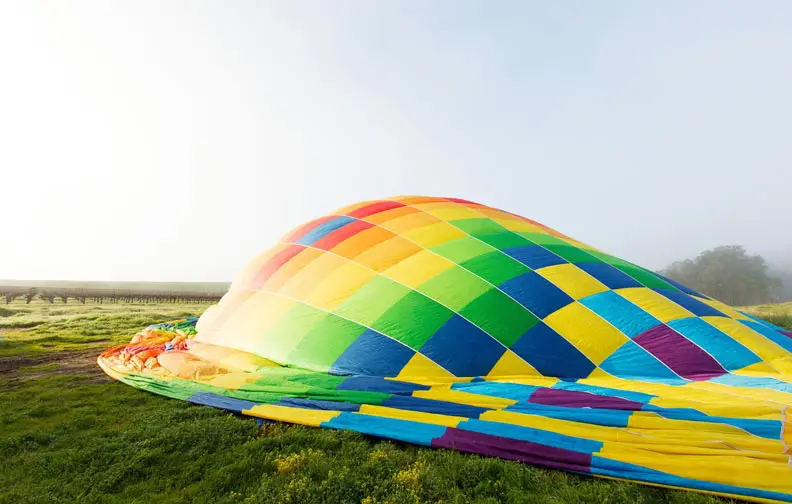 Most hot air balloon launches take place early in the day and your tour may include watching the inflation process. They'll unpack and stretch out the balloon so they can begin filling it with air. Hot air balloons are first inflated with fans, then with a propane burner for loft.
You may be shocked to realize just how huge one of these balloons really is, once you've seen it laid out like that!
Taking off might sound a little scary but may just surprise you in a different direction. Balloon flight is so stable that many don't realize they've left the ground until well after the fact!
Landing can be a little more exciting and bumpy but not to worry. There are plenty of safety-measures in place and your pilot will make sure everyone has a safe and fun experience.
Sonoma Hot Air Balloon Wine Tours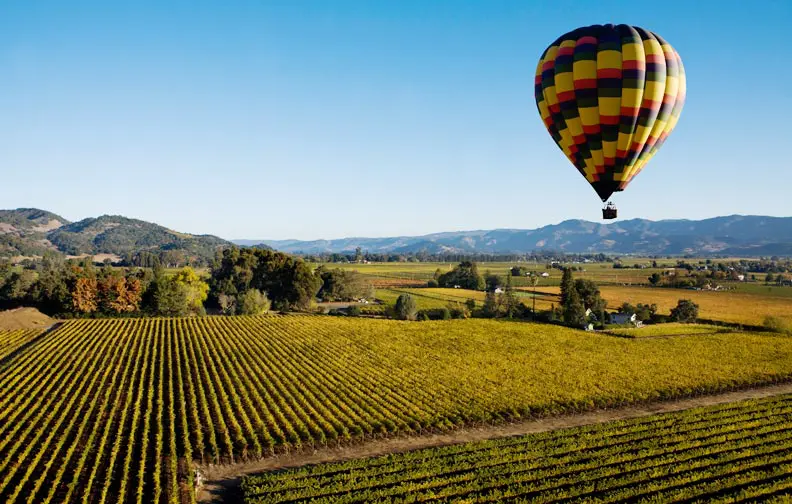 There are a number of companies in the area offering Sonoma hot air balloon tours. Listed below are just some of the more popular, local companies offering this service.
Up & Away Hot Air Ballooning
Serving Sonoma County for over 20 years with a variety of tours taking off from Sonoma County Airport. – 707 329-4167
Wine Country Balloons
Wine Country Balloons offers a variety of tours and extras that kick off with a yummy start at Kaffe Mocha & Grill in Santa Rosa. – 707 538-7359
Wine Country Walking Tours
Wine Country Walking Tours provides all manner of vineyard and winery tours. Their Sonoma hot air balloon wine tour is loaded with a full day of fun extras! – 707 758-4287
There's just so much to do and see in Healdsburg – and Camellia Inn is here to help. Just let us know where your interests lie and we'll help to aim you in the right direction. See you soon!