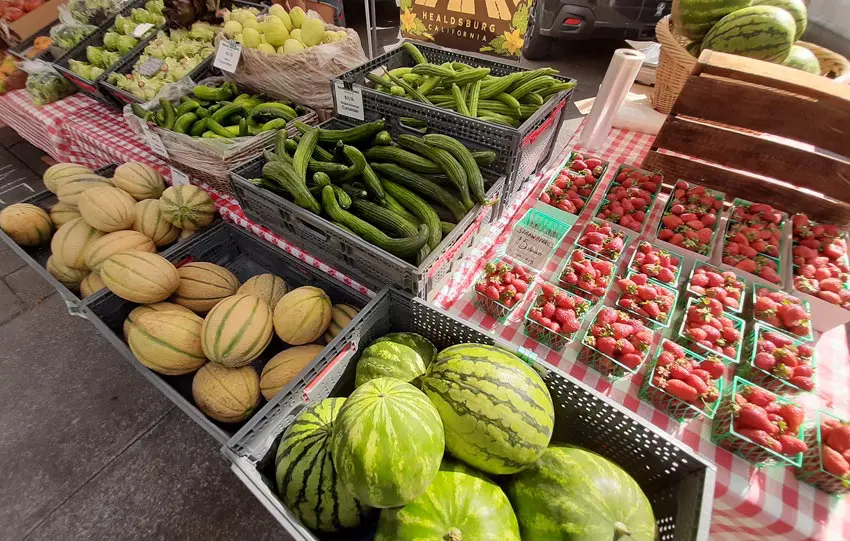 There's nothing like a farmers market for delivering a quite literal taste of both a region's produce and its character. That's certainly true of the Healdsburg Farmers' Market. Even better, the market is an easy, 5 minute stroll from Camellia Inn!
Farmers markets have really been making a comeback as more people learn about the benefits of locally grown, healthy, whole, and raw foods. Beyond all the fresh, local produce, farmers markets help to promote local economic health and are more sustainable than big box grocery stores.
They're also a great way to get to know both your neighbors and your food producers better. When traveling, visiting a local farmers market is a great way to get a feel for and help support a community.
These facts are well known in Healdsburg because our farmers market has been a local institution since 1978! In fact the Healdsburg market is one of California's original, twenty-two Certified farmers markets!
Healdsburg Farmers' Market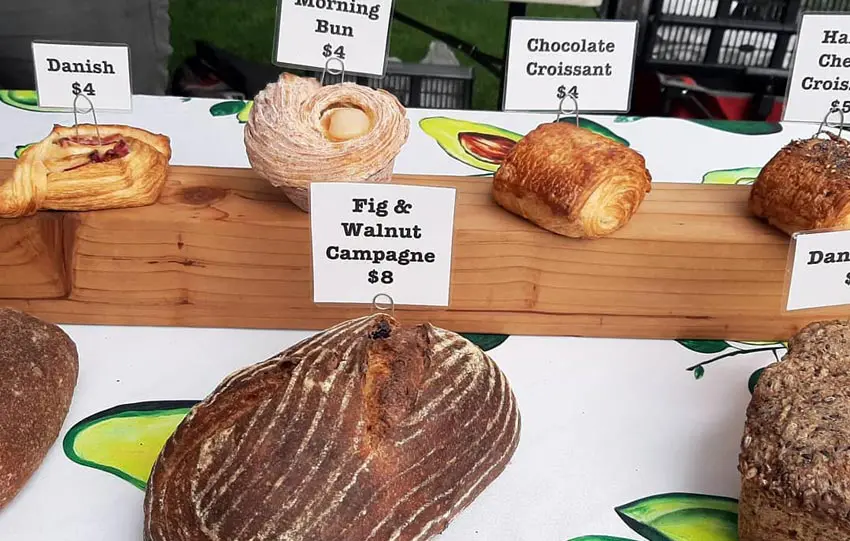 The market is home to over 60 different vendors offering a wide variety of fresh produce – but that's not all! You'll also find flowers, cheeses, honey, olive oil, fresh eggs, wild caught fish, pasture-finished meat, and more. The market also offers baked goods, precooked foods, packaged foods, and hand-crafted goods.
Always a bit of a celebration, each market day features live entertainment another regional musician or band whose talents always enliven the day.
The market also puts on several special and seasonal events throughout the season. Special guests, cooking demos, zucchini races, pumpkin carving contests, and the upcoming Craft Market.
October/November Craft Market
Saturday, October 10th, 2020, 8:30am to 12pm at the Heraldsburg Farmers' Market.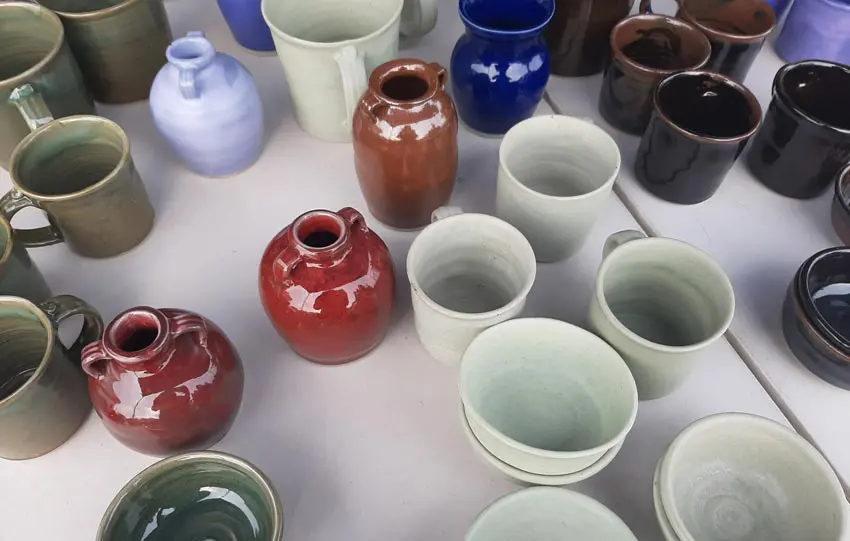 If you're a fan of handcrafted goods – and a really good time – you do not want to miss the October/November Craft Market.
Each week, the farmers market will feature 30 or more artisans selling their handcrafted goods. Ceramics, fiber art, glass, carvings, jewelry, paper goods, and much more. The mix will change from week to week, so you never know what treasures you'll discover. Exciting!
What a great way to find a truly unique and special gift.
2020 Season Market Hours
The Healdsburg Farmer's Market is held two days a week.
Saturdays, until November 28, 2020, the market goes from 8:30am to noon in the West Plaza Parking Lot, one block west of the Healdsburg Plaza on North and Vine.
Tuesdays, until October 27, 2020, the market is open from 9am to 12:30pm at the Healdsburg Plaza.
Both locations are an easy and pleasant, three-and-a-half block stroll from our Healdsburg inn.
So go ahead, start off one of your Sonoma Wine Country getaway days at the Healdsburg Farmer's Market. Fresh air, fresh food, and friendly folk – there may be no better way to wake up!
Learn more at the market website. You can also visit the market on Facebook.