1. May Day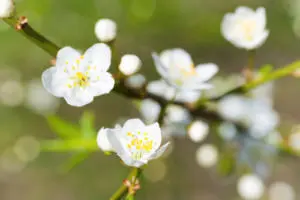 When I was a teenager, two of my friends used to travel all over our neighborhood with fresh flower bouquets and deliver them to our door steps before we were even awake. They still continue the tradition, virtually. May Day 2017 Guide, click here.
2. Farmers' Market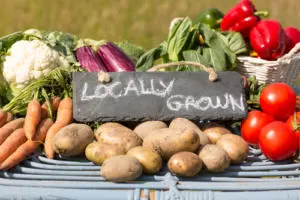 Opens in Healdsburg two blocks from the Camellia Inn on the first Saturday in May from 8:30am –noon. Enjoy your breakfast at the Inn and then walk down the street to gather fresh goodies for your picnic while wine tasting. More on Healdsburg Farmer's Market, click here.
3. The Rain is over and the sun is out.
2017 winter was full of much needed water to eliminate the California drought and feed the vines in the vineyards. The vineyards are leafing out to beautiful green and the hills turn gold.
4. This leads to the swimming pool opening at the Camellia Inn.
Guaranteed to be open June thru September — we always are able to open the pool sometime in May. Chaise lounges, afternoon iced tea, solar pool heater warms the water. Time to relax and enjoy long days of pleasant temperatures after a day of wine tasting.
5. "Happy Hour" by the pool.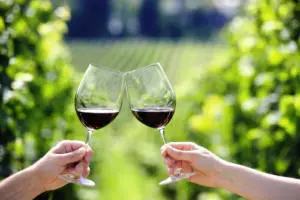 Gather on the pool deck around the table to enjoy local wines, Ray's wine, and light snacks. Discuss winery visits and dinner options with hosts and other guests. So wonderful to be outside after a day of wine tasting.
6. Future Farmer's Parade
The highlight of the year for me. The local students have raised their farm animals, the preschoolers have decorated their flatbeds, and the Kiwanis are riding bikes. As we always say "if you're not in it, you're watching it!" The parade starts at 6pm and lasts almost two hours. It's a tradition that captures Healdsburg's small town charm to a "T." Family friends and Inn guests are invited to Ray's house (Lucy's Dad) for a mega-tailgate parade viewing party. More on the Future Farmer's Parade, click here.
7. Cinco de Mayo
Healdsburg has a large Hispanic population and at the Inn our housekeeping staff hails from Mexico. They have done a terrific job at keeping the Camellia Inn spotless for the past 28 years! That loyalty and consistency that is noteworthy. I am so grateful for them. The town will be celebrating with food and fiestas for all.
8. Healdsburg Homes Tour
Our local AAUW chapter sponsors the tour of six beautiful homes. This year's theme is "Then and Now" in Healdsburg. From a Victorian 1870s mansion to a hill top home with fantastic Healdsburg views, you can enjoy history and contemporary architecture and style. Home baked cookies and raffle prizes are also offered. The tour begins and ends at the Healdsburg Museum. It is a benefit for local education. More on the Healdsburg Homes Tour, click here. 
9. Mother's Day
On this day, I remember and honor my own mother whose delicious recipes live on at the Camellia Inn. The powerhouse in founding the Inn in 1981 her influence is still everywhere, with family heirlooms, handmade draperies, color and decorating choices. I also admire and respect all the mothers that visit and work at the Inn. They are an inspiration to me and their families. Hard work and love abounds. A visit to nearby Russian River Rose Company might be nice today.
10. Memorial Day Weekend
This three day holiday marks the beginning of summer in Healdsburg. The Farmers' Market is open, canoeing and floating on the Russian River attracts both locals and visitors. Backyard BBQs for locals and festive winery activities make for busy and lively weekend.