An exclusive wine and food experience with Williamson Wines!
Extend your weekend or book a mid-week getaway, include Monday in your 2-night (or more) stay and join us for a special lunch on Mondays at 12:30pm. Be treated to a multi-course lunch where each culinary delight developed by the winery executive chef is perfectly paired with a different selection of Williamson special club member release wines. Williamson Wines enjoys a strong reputation for their many quality wines made exclusively for wine club members and the sensational hospitality in pairing their wines with food when you visit. Come experience the Camellia Inn and Williamson Wines to see for yourself!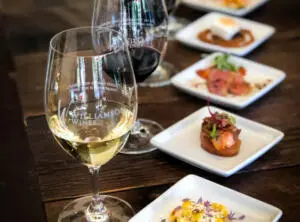 Package includes:
• Full homemade breakfast each morning
• Multi-course lunch at renowned Williamson Wines on Monday
• Wine and snacks each evening
Williamson Wines can accommodate most dietary restrictions with a 24-hour advance notice.