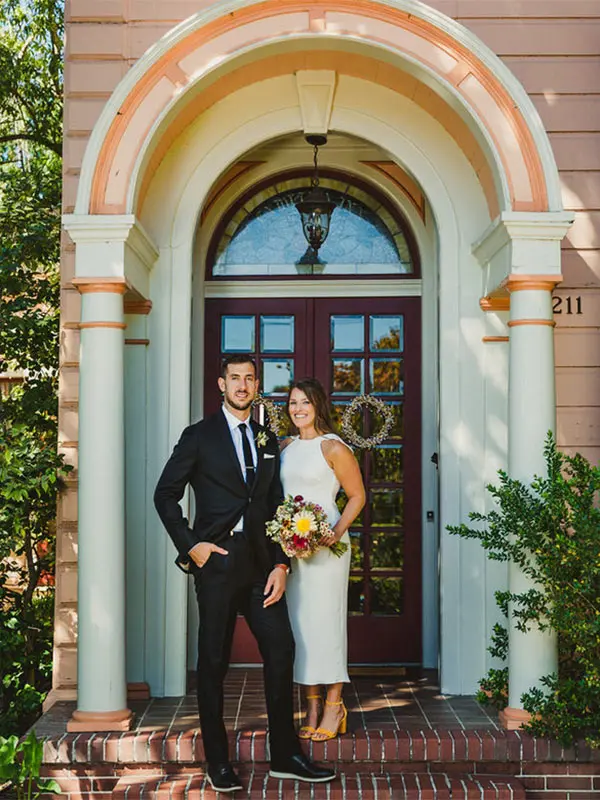 If you are looking for small and intimate Healdsburg CA wedding venues, look no further than the charming Camellia Inn.  The Inn is the ideal location for an elopement, honeymoon, getting ready, and taking fabulous photos. That's exactly what Kendra and Michael did for their big day here at the Inn.
Photographer Derek Lapsley captured all their tender moments. His  photos captured getting ready, first look photos, and portrait photos at the inn. Our gardens, and coral pink, Italianate Victorian architecture, made it a stunning background for their most cherished photos.
The image gallery below shows their time at the inn, You, too can come explore the inn and our offerings for your own special getaway, Healdsburg elopement or honeymoon, or your home-base for getting ready for the big day.
The Camellia Inn is one of the most intimate of Healdsburg CA wedding venues. Our charming, 1869 Italianate Victorian Inn blends old world vintage charm with modern luxury for an affordable Healdsburg wedding experience.   From our beautiful rooms, wonderful breakfasts, and helpful hosts, your time at Camellia Inn will become a treasured memory. Begin the journey, check availability, and book your next getaway today.
Photo Credit and Special Thanks to Photographer Derek Lapsley.