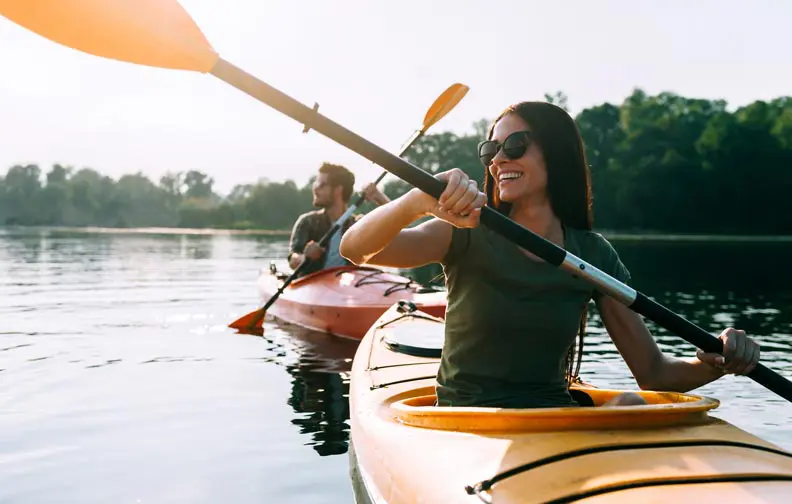 Take a ride on the easy waters of the Russian River through the heart of Sonoma County Wine Country with a Russian River rafting trip! Floating down the Russian River in a kayak, canoe, SUP, or inflatable is one of Sonoma County's most popular summer activities for both visitors and locals alike.
There's nothing quite like getting out on the river. Soaking up the beauty of the Russian River Valley from the perspective of the water is an experience everyone will enjoy. The peace and quiet, the gentle flow of the waters carrying you along, and so much wildlife! Osprey, heron, kingfisher, egrets, turtles, bass, pike, deer, even eagles and the occasional otter.
Between April and October – boating season – there is little rain and the Russian River becomes amiably gentle. No white water, just a few currents here and there. Perfect conditions for a relaxing paddle, no matter your level of boating experience.
Canoes and kayaks are the boats of choice, though SUP (stand-up paddleboards) are becoming more and more popular. Inner tubes and other inflatables are another fun and common option.
Best of all, you don't have to bring your own craft along to join in the fun. Sonoma County is home to many outfitters offering a variety of ways to get out onto the water. Below is a short-list of those nearest to our Healdsburg bed and breakfast, Camellia Inn.
Russian River Rafting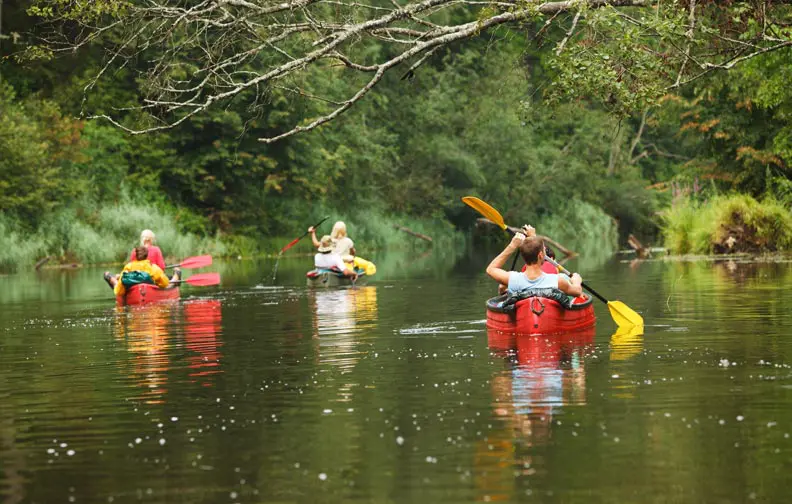 Russian River Adventures –
Locally operated Russian River Adventures is currently offering self-guided day trips. 9 miles down the river from Memorial Beach to Wohler Bridge, in SOAR Inflatable canoes. The trip takes between 3.5 to 6 hours, depending on your pace. Enjoy gentle paddling, swimming holes, beaches, swimming, wildlife, and a picnic stop. You can even bring your dog! Visit russianriveradventures.com for more information.
River's Edge Kayak and Canoe Trips –
River's Edge, also located in Healdsburg, has a popular 3 to 5 hour "Rio" Trip down a quaint section of a five-mile stretch of the river, starting north of Healdsburg. Choose a canoe or kayak for your self-guided tour – and don't forget to bring picnic supplies! Learn more at riversedgekayakandcanoe.com.
Rubicon Adventures –
Rubicon, in Forestville CA, offers a variety of paddleboard trips and tours on the Russian River. They also offer clinics and SUP yoga. Their certified instructors will help you learn the ins and outs of SUP (if needed) and get you out on the water for some real fun. Go to rubiconadventures.com for more info.
Burke's Canoe Trips –
Burke's Canoe Trips, also located about 30 minutes away in Forestville, offers a ten mile, self-guided canoe trip through redwoods. Pack a picnic lunch, slip on your swimsuit and river shoes, and get ready for up to 5 hours of fun on the water. Collect more details at burkescanoetrips.com.
So Much To Do In Sonoma Wine Country
There is no end to the fun that can be had in the Healdsburg area. Wineries, shopping, art galleries, hiking, biking, touring, and so much more. Just let us know what activities interest you and we'll be more than happy to get you pointed in the right direction. So go ahead, come explore Sonoma Wine Country – book your stay at Camellia Inn today!