"Any guy hates Valentine's Day. Even if you're in love, you can't win on Valentine's Day. If you're married, you can't win on Valentine's Day. Valentine's Day is like the thing you want to avoid at all costs." — Vince Vaughn
Good lord do we love Vince Vaughn! This quote is hilarious! We don't know if it's true but we'll let all those couples be the judges for that. We think any guy can win if you choose to bring your significant other to the Camellia Inn Bed and Breakfast this Valentine's Day! We'd email Vince Vaughn, but we think he's going to be just fine in a few days. Anyway, there are plenty of events in Healdsburg or around our beautiful town that are perfect for you and your other half. Here's a look at some of those events in Healdsburg for you to plan your Valentine's day or Valentine's weekend around.
Dine Your Valentine in Wine Country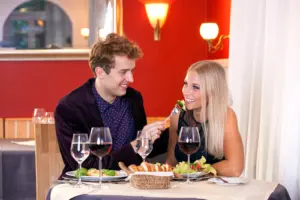 One of the first of many events in Healdsburg happening on Valentines day is the Dine Your Valentine in Wine Country at Geyserville Grille. From the hours of 5pm until 9pm make a reservation to take part in a Four Course Meal prepared by Executive Chef Andres Rodriguez. You'll have a complimentary Sparkling Toast at the end of your meal. "The Christensen Family welcomes you to The Hoffman House!" Don't hesitate, contact them immediately to set up a reservation. www.geyservilleinn.com
Valentine's Day Singles Pop-Up Class
Valentine's day doesn't have to be just for couples. One of the more unique events in Healdsburg happening on February 14th is the Valentine's Day Singles Pop-Up Class. If you are single and cringe at the thought of another Valentine's Day, this is one of those events in Healdsburg to be a part of.  If you are wondering what to do and where to go without getting swept up in crowded restaurants and hordes of lovers this is the place to be. Wouldn't you rather spend the evening with friends or doing something fun just for yourself? If that's the case then head over to this website to learn everything about a singles events in Healdsburg not to be missed. https://www.dragonflyfloralschool.com/store/p171/VALENTINE'S_DAY_SINGLES_POP-UP_CLASS_-_Thursday_February_14th,_2019.html
Calling All Little Red-Haired Girls (And Boys)
If you happen to be heading to Santa Rosa on Valentine's day than this can be a fun getaway for you. It's not one of our events in Healdsburg, but it's something we encourage anyone to be a part of. If you are a little (or not so little!) red-haired girl or boy then you will receive FREE admission in celebration of Valentine's Day and Charlie Brown's affection for a certain Little Red-Haired Girl. Head over to this website to get further information on how to participate. https://schulzmuseum.org/learn/calendar-of-events/?EventId=33242&eventscheduleid=236295
Friday Eve Wine & Song
There are a ton of events in Healdsburg happening on Valentine's day and lasting throughout the weekend. So, if you plan on heading to Healdsburg on Friday February 15th, then you are in for a treat. There will be live music in the Barrel Room at Hudson Street Wineries Old Roma Station. They will be featuring the swing jazz sound of "Honey B & The Pollinators." This events in Healdsburg will be on Friday, February 15th, and will have happy hour lasting from 5 to 8 pm with music starting 5:30 and lasting until 7:30 pm. For all of the details with this Friday evening wine and song head over to this website. http://www.hudsonwtreetwineries.com
Rosé Release & Oysters!
This Rosé Release & Oysters event happening on Saturday February 16th at Papapietro-Perry Wines is one of the most fun events in Healdsburg happening over the Valentine's weekend. Doesn't a 2018 Rosé of Pinot Noir, Hog Island Oysters & Your Sweetheart sound like a remedy for success? We think so! Join  Papapietro-Perry Wines as they celebrate the release of their popular Rosé of Pinot Noir. Pair the Rosé with oysters from the world-famous Hog Island Oyster Company. They will be here from 11:00 to 4:00 serving up fresh and grilled oysters. Oh, you bet big time! Come rain or shine, they'll be outside if the weather cooperates or in the cellar where it is warm and cozy if it rains. Head over to their website to learn more about these exceptional events in Healdsburg. https://papapietro-perry.com/events
So many events in Healdsburg this Valentine's Day Weekend
Honestly, there's no wrong decision when choosing between all of these events in Healdsburg happening this coming weekend. We at the Camellia Inn hope you are planning an over-night stay or a weekend getaway. We promise to accommodate and pamper you. There are plenty of things to do if you want to skip all of the Valentines day traditions and just indulge in our town. We encourage you to reach out to us so we can book your stay and lead you in a direction to an endless amount of great experiences. Cheers to you and Happy Valentine's Day!