Welcome to the Camellia Inn
a Healdsburg California Bed and Breakfast
We're thinking of everyone as we move through this worldwide disruption.
Flexibility, safety and comfort are our primary focus. Contact us anytime!
For cancellations and rescheduling we will work with all of our guests individually to handle all the details.  We'll make it work for you.
Meanwhile stay safe and do something creative, read a book, take walks if you've the time.
We're all in this together and can't wait to see you later in the year!  We are so grateful for your past and future visits.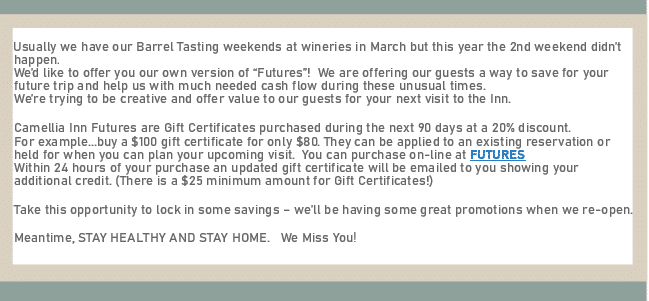 Whether you've been to the area many times or it's your first we want to make it the best experience yet. While you're dreaming, when you're planning your visit or during your stay – we love to help. Come see us at our Healdsburg Sonoma County California Bed and Breakfast soon! Click here to take a look around.
Walk two short blocks to Healdsburg Plaza with 35 wineries, boutique shopping, Zagat and Michelin rated restaurants.
Full breakfast each morning, afternoon tea and homemade cookies, early evening wine & snacks in parlor or beside the swimming pool, all reworked for guests safety concerns.
Pass for free or discounted wine tasting at over 100 local wineries.
Complimentary off-street parking, seasonal swimming pool, pass to local health club, massage room, iPads in most room, free Wifi.
Personalized concierge service for insider tips, reservations, tours and tastings.